I make experimental, electronic music, which you can listen to @ 
Soundcloud
&
Spotify
& the other usual places.
Here's an EP I released through New Weird Australia in October, 2022. It's a collection of tracks made with samples from Rully Shabara/Raung Jagat Synthetic's 'Synthetic Vocabulary':
Liner notes: Through projects like Senyawa and Zoo, Rully Shabara has explored the vast expressive range of the human voice. In 2021, he took a breather and released Synthetic Vocabulary, a collection of a capellas performed by artificial intelligence. The voices of Synthetic Vocabulary evoke text-to-speech generators running through endless arrays of morphemes and tones, as if trying to push beyond a pre-linguistic stage of development. In remixing Synthetic Vocabulary, Naarm/Melbourne-based writer and musician Zacharias Szumer takes this developmental process on a detour through rhythm and melody, partially inspired by a hypothetical stage of human evolutionary history in which our communication system resembled music more closely than language.
…
One of my tracks was also featured on New Weird Australia's 2022 compilation Collapse Theories
♙C♙H♖E♘S♗S♔M♕U♗S♘I♖C♙
Dr Alan Nguyen (white/clear glass) vs Zacharias Szumer (black/frosted glass). Each move on the midi controller chess board triggers one of 64 unique musical passages. Each match played creates a unique arrangement of musical passages.
Here's some photos/video of Alan and I performing it at Melbourne club Miscellania, at a gig put on by Liquid Architecture/ARC Centre of Excellence for Automated Decision-Making and Society.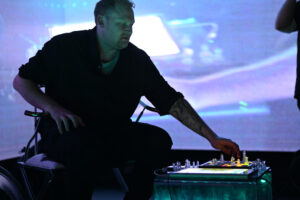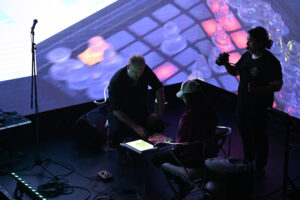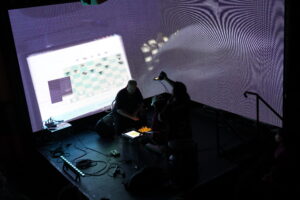 The shark-tank-esque spiel at the beginning (I skipped the 'Potemkin Village People' joke)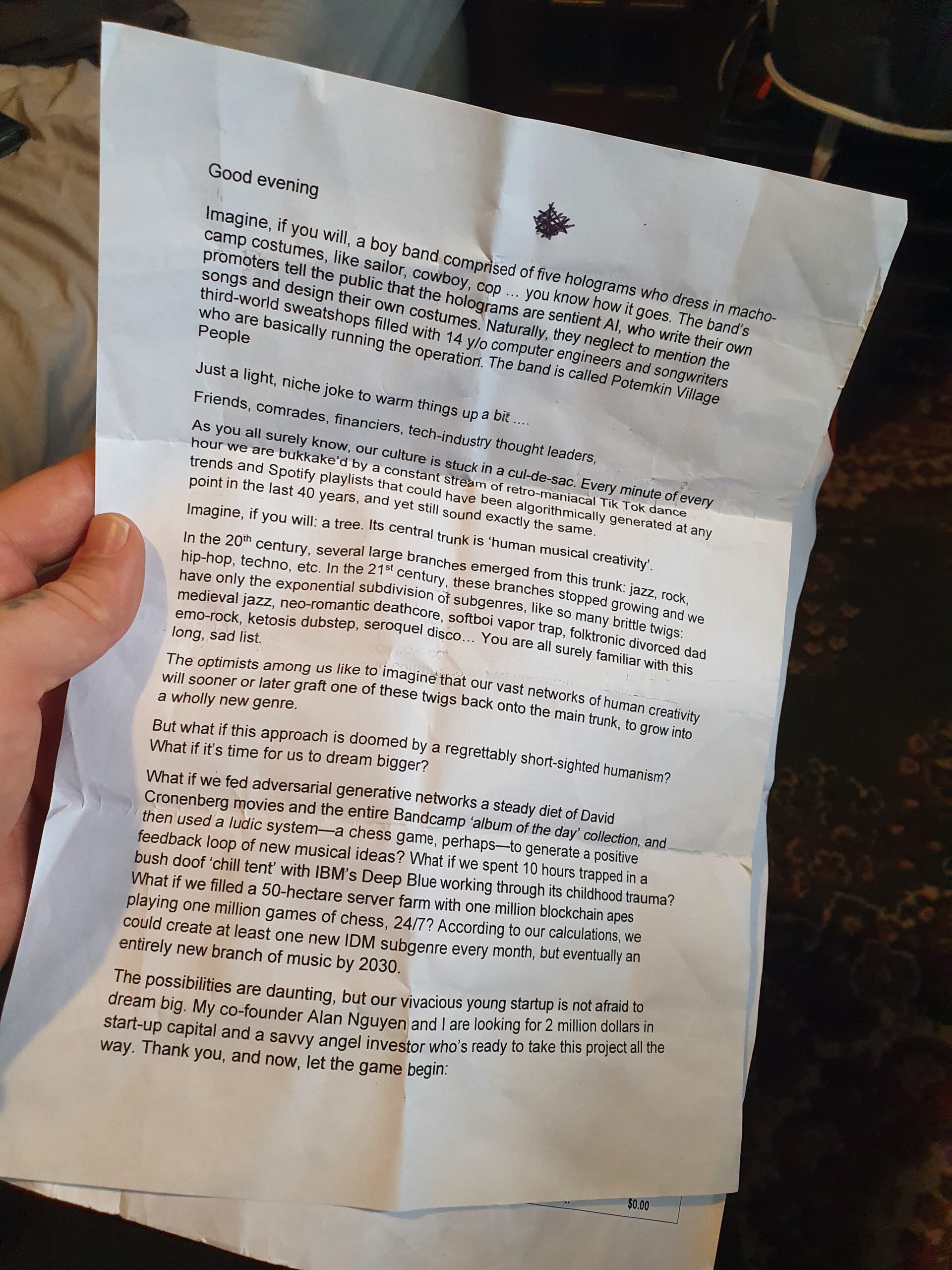 The first iteration of musical chess that I made. Game with Brisbane artist Orlando Furious
How I was conceptualising the music in it at the time: In On the Concept of History, Walter Benjamin compares the teleological view of history to the 'Mechanical Turk', a chess-playing mechanical illusion dressed in Ottoman robes that toured Europe in the late 18th Century. For those who see history teleologically – as a linear progression towards an inevitable end – going against the current is like playing against this formidable automaton: any move will surely be outmanoeuvred. However, for those on the other side of the chessboard, the mechanistic view of history is, like the Mechanical Turk, just a clever illusion. For Walter Benjamin's Jewish ancestors, whose culture kept them in close proximity with their mythical past, history was imagined as a horizontal simultaneity, not a vertical movement through time. And for philosophers of non-linear dynamics like Manuel DeLanda, history is better thought of as an exploration across a horizontal field of possibilities – a polyrhythm of material, genetic and cultural flows. It's Not All Black and White is a game of chess, in which moves on a midi launchpad trigger different musical sequences that represent these two tendencies of historical thought.
Fully Automated Luxury Kosher Space Kibbutz
A meme page/music project I made with my cousin. Here's some of the music:
And here's a video for our coronavirus pandemic-era remix of 'A Sudenyu', which is an old Yiddish call-and-response song made up of questions and answers about the great feast in heaven after the coming of the messiah. The remixed lyrics of 'A Sudenyu', which were provided by a friend who wishes to remain anonymous, ask "𝙒𝙝𝙖𝙩 𝙬𝙞𝙡𝙡 𝙝𝙖𝙥𝙥𝙚𝙣 𝙬𝙝𝙚𝙣 𝙩𝙝𝙚 𝙫𝙖𝙘𝙘𝙞𝙣𝙚 𝙘𝙤𝙢𝙚𝙨?"